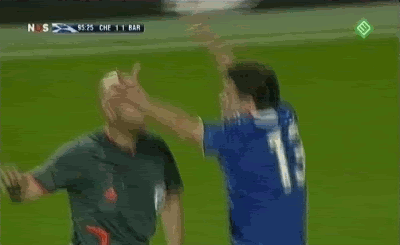 The game that made Chelsea
a bunch of raving lunatics
.
Afterward I was left shaking my head.
Barcelona didn't deserve to win the game.
Messi
and
Eto'o
were invisible. Chelsea dominated the chances and, yes, had earned at least one penalty kick. Oh yeah, Barca blocked two shots in the penalty box with arms -- freakin'
Pique
even admitted his guilt.
Unbelievable. A disgrace to the game.
That ref probably won't be in charge of a meaningful game anytime soon -- maybe at the JV level. Horribly inconsistent and certainly the story of the game.
Some will say, things are even considering the errant red card giving to
Abidal
-- but I don't think so. Chelsea was in a defensive mode at that point and nothing really changed after Barcelona went down a man.
Now obviously the Blues could've easily scored a second to end all discussion (that means you
Drogba
), but I still think the result was stolen from them.
That said, I'm definitely more excited for a United-Barcelona final than the all-English alternative.
So all's well that ends well for the fans.